ID Readers for Age Verification
Use an ID Reader to prevent underage customers and troublemakers.
Failing to stop underage purchases can put your establishment's license at risk.
Reading IDs at your age-restricted business is essential to avoid fines and the risk of being shutdown.
By using an ID reader, you're taking the first step in protecting your business.
There are two options when purchasing an ID reader: stationary or mobile. A stationary ID reader is ideal for point-of-sale or countertops, while a mobile ID reader is ideal for servers and bouncers on the move in a bar, club, casino, or restaurant.
Explore Our ID Reader Solutions
Mobile ID Reader – IDVisor Smart V2
Quickly Reads All US / Canadian IDs + Military
Simple Point and Shoot Barcode Reader Reads all 50 states IDs and Drivers Licenses, Canadian Drivers Licenses, Canadian Health Cards, US Military Retired and CAC IDs. New Drivers License Formats Updates are always FREE! Reads in less than 1 second!
Easy to Operate – Designed for Security Staff
Design for Ease of Use – Yet powerful features if you want.
Ruff, Tuff and Easy to Use. The base product verifies age, records data for due diligence, exports data and has customer relationship management features such as email/phone capture, customer visit count, scan count, and manual entry. There are upgrades for pictures, vip/banned tagging and antipassback. Customize during check out or upgrade in the field.
Configure IDVisor Smart Starting at $795
Ready to Go Out of the Box
Just Power Up And Start Reading IDs
We set up everything at the factory and include a quick start guide with some simple instructions. It's about 1 minute from opening the box to scanning your first driver's license with IDVisor Smart.
Stand Alone Operation
Operates without WiFi – WiFi only required if wireless data export is preferred over wired USB cable export, to update software, or if networking multiple ID Scanners with IDVisor Sync (see below).
Configure IDVisor Smart Starting at $795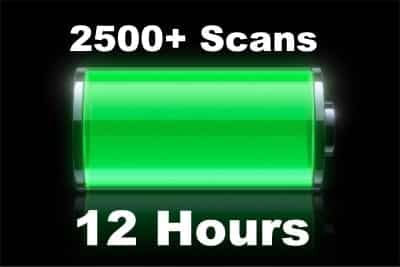 Rechargable Battery Lasts all Night
Long Lasting Replaceable Li-Ion Battery
Removable 4000 mAh Li-Ion Rechargeable Battery will easily last all night. In our testing, scanning 4 times per minute (No venues can scan IDs at a rate of 4 per minute), with WiFi on and the LCD on brightness setting at medium, it scanned 2677 IDs in 11 hours. Clients are amazed how long the battery lasts.
Optional Cradle with 2nd battery Charger
The IDVisor Smart ships with a micro USB charge cable and wall charger. An optional charger cradle with a 2nd battery charger charges the IDVisor Smart and a second battery providing 24 hour – round the clock power. Venues which run 24/7 operations like the optional cradle.
Configure IDVisor Smart Starting at $795
See, Hear and Feel Warnings
Color Coded Warnings, Talking Warnings, Vibration
The IDVisor Smart makes it almost impossible to miss a warning. Earlier generation scanners with monochrome displays simply showed the ID's calculated age, which could be misinterpreted by tired employees. This scanner displays the calculated age and then updates color coded icons, a color coded status message, sounds an audible alarm and vibrates, making almost impossible to overlook a problem ID.
One or Two Age Icons turn Green or Red
Status Message is Green Red or Yello
Talking Warnings or Audible Warnings with Volume control
Vibrates on Warning Events – Feel the Warning
Easily Export Data Into Excel
Easily export your scanned customer data directly into Excel.
Scan data lists each scan with a date and time stamp. Customer Data lists each customer once with the total number of visits, date/time of the last visit, email/phone (if manually captured), tagged and associated tag notes. The customer list details frequent customers.
Wired Export – USB Thumb Drive:
Export Data like a USB Thumb drive with PC, MAC or Linux computers using USB cable. No download software required – just drag files onto the host PC.
Wireless Export – Email / Google Drive:
If connected to WiFi and using Gmail account, data can be exported as an Email attachment or saved to Google Drive account.
Either way, No download software installation!
Stationary ID Reader – AgeVisor Touch
No setup required. Easy to use.
Our stationary ID readers are ready to use out of the box. A motion-activated barcode reader, visual age indicators and audible warnings make understanding information simple and easy.
Designed with counter space in mind.
The AgeVisor Touch is designed for countertop use. The ID reader is large enough to clearly display important information yet it's 7×7 inch frame won't clutter your work space.
Quickly Read IDs!
With about 1 second per scan, reading IDs and verifying age is a fast process.
Cloud Network Ready
All of our ID readers are able to be networked with one another through our cloud service Easily share data between all networked ID checkers to keep your staff on the same page regarding tagged customers, visit count, and more.
Looking for a fake ID reader?
Fake ID Reader – IDentiFake
Stop fake IDs now with our latest forensic ID reader.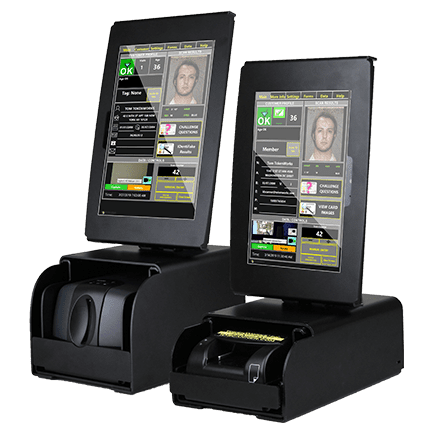 Be ready for all IDs.
The IDVisor Smart reads drivers' licenses and state IDs from all 50 US states. It also reads Canadian drivers' licenses and US military IDs.
Here's 3 Reasons Why TokenWorks is Awesome
Free US Technical Support
Free Technical Support by US based engineers. No overseas call centers. And you speak with the Developer, not a reseller. TokenWorks Supports its products from the same offices that Designs, Develops and Fulfills order here in New York. Support hours are M-F 9-5 EST.
100% Satisfaction Guarantee
All TokenWorks products have a 100% satisfaction guarantee. All products include 14-day trial period, in which the scanner can be returned for a full refund.
FREE Fast Shipment
FREE UPS Ground shipments with coupon code FREESHIP used at checkout. Same Day Shipment for orders placed before 12pm EST. Note UPS Ground is 1 Day delivery within 150 miles of our office. See UPS coverage map.
Highly Rated Products by Shopper Approved
Hundreds of 5-star reviews by confirmed purchasers of TokenWorks ID Scanning products
Reviews captured by Shopper Approved, the leading independent source of product reviews from actual customers.
The confidence that you are not shopping along, but have a community of satisfied customers to count on
A+ Better Business Bureau
Rated A+ by Better Business Bureau since Joining in 2010. To see our realtime rating - visit TokenWorks page on bbb.org This will open new tab in your browser.
TokenWorks has been in business for 18 years and is one of the largest suppliers of ID Scanners in North America.
Satisfaction Guarantee
Return the product for any reason within two weeks of purchase for a full refund – no questions asked.
We warranty our products to be free of manufacturing defects for a period of 1-year from the date of purchase.
If it fails during the first year due to a manufacturing defect, then we will fix it for free.