Verify customer identity.
Protect Your Business
The process of knowing your customer, also referred to as KYC, is what businesses do in order to verify the identity of their clients. It is increasingly common for banks and companies of all sizes to verify customer identity in order to protect their business from corruption, bribery, and money laundering. KYC allows companies to protect themselves by ensuring that they are doing business legally and with legitimate entities.
Many businesses begin their KYC procedures by collecting basic data and information about their customers, ideally using electronic identity verification. Pieces of information such as names, social security numbers, birthdays, and addresses can be useful when determining whether or not an individual is involved in financial crime.
Verify customer identity and ensure the safety of your business by implementing a ID Validation solution from TokenWorks.
Safe and Secure
Avoid crime and bribes by verifying customer identity.
Document and Manage
By creating a document of your customers, your business will discover a pattern of who is working with you.
Detailed and Specific
Know exactly who you're doing business with.
IDVisor Sentry
The IDVisor Sentry is a driver's license scanning software package with the ability to capture driver license information, images of the driver license, images of the cardholder from a webcam, and record transactional details like the type and amount of waste. It can cross check the driver license address with a list of approved addresses to ensure the patron is authorized. The system is also capable of automatically filling out any existing external forms, eliminating time consuming manual entry and human error.
Streamline check in process/avoid operator error
Securely and accurately verify ID/residence status
Quickly capture ID data with date/time stamp
Questionnaire: What material? How much?
With questionnaire, keep track of what customer previously sold and how much
Customer visit counter
Warn of repeat visits within preset times/dates
Tag (ban) customers who may have violated rules
Easily manage/keep records of visitors
On-system reporting or export data to other systems
Network to centralized management console
Network multiple readers if operating more than one site
Free technical phone support
IDVisor Smart ID Scanner
This mobile ID scanner extends the functionality of the Sentry while maintaining a customer relationship management database. These integrated features include tracking customer visits, capturing additional customer information like phone and address, and searchable database using simple text queries.
Customer Relationship Management – allow or block
Create lists with allocated zip codes, indicating whether or not customers are allowed to drop off materials at your facility. This feature can ensure only residents of your town or county are approved.
The first image shows an example of an address on the approved list, while the second image shows one that isn't.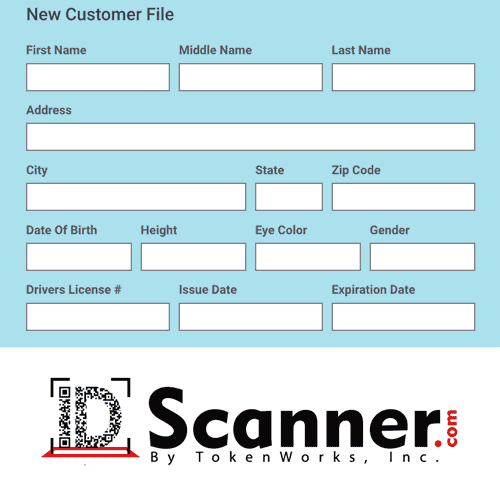 Form Filling
Our IDFill technology will help you save time and money by automatically filling forms after swiping an ID through IDWedgeKB or IDWedgePro
Zero footprint – no software installation
Autofills any form via USB form
Configure with simple text editor
Fast: 1 second scan
Reads all 50 states, Canadian provinces, and military IDs
Reads 1D barcodes and magnetic stripes
IDVisor Sync – Cloud Service
Keep all scanners connected to each other
What information is stored on the database?
Scanned data of all networked scanners
Customer data – real-time banned lists
Photos – shared and accessible among all devices
Scanners function both online & offline
Data collected offline automatically syncs when connection is restored
Free US Technical Support
Free Technical Support by US based engineers. No overseas call centers. And you speak with the Developer, not a reseller. TokenWorks Supports its products from the same offices that Designs, Develops and Fulfills order here in New York. Support hours are M-F 9-5 EST.
Free Software Updates
Free software updates – Once you buy one of our products – we'll continue to support it for as long as you own it. This alone can be worth $100+ per year.
Celebrating 20 Years in Business
We pride ourselves on the quality of our customer service and our products with many satisfied customers throughout the globe. Growing as a company and developing better solutions as new ID scanning technology progresses is our specialty.
Shopping Guarantee by Norton
$100 Lowest Price Guarantee
$1000 Purchase Guarantee
$10,000 Identity Theft Protection
Norton Shopping Guarantee paid for by TokenWorks is in addition to our Satisfaction Guarantee. Click on bottom left icon to learn more (on phones rotate to landscape mode to see icon)
A+ Better Business Bureau
Rated A+ by Better Business Bureau since Joining in 2010. To see our realtime rating – visit TokenWorks page on bbb.org This will open new tab in your browser.
TokenWorks has been in business for 18 years and is one of the largest suppliers of ID Scanners in North America.
Satisfaction Guarantee
Return the product for any reason within two weeks of purchase for a full refund – no questions asked.
We warranty our products to be free of manufacturing defects for a period of 1-year from the date of purchase. If it fails during the first year due to a manufacturing defect, then we will fix it for free.
Contact Us today for a free consultation with one of our ID Verification Experts.
Verify customer identity, assess client suitability, and protect your business with our customer management & form filling solutions from TokenWorks. Please fill out the form on the right or call us directly M-F 9-5 EST at 914-704-3100