Bar ID Scanner
With a bar ID scanner, you can easily verify age of all customers coming into your business.
Failing to stop underage purchases without a bar ID scanner can put your establishment's license at risk.
Bars and other alcohol-selling establishments that fail age compliance checks several times are in danger of losing their license, and in some states, the owners can be hit with citations and fines as well.
Nightclubs and bars that want to make sure their business is complying with alcohol sales laws depend on service staff to check and validate IDs.
Help your team stop sales to minors by implementing a ID Validation solution from TokenWorks with our Bar ID Scanner tools. Read more below about our best selling mobile scanning device, the IDVisor Smart from TokenWorks.
Alcohol To-Go? A bar ID scanner is absolutely necessary.
With what's going on in the world, rules for food and drink delivery are changing, including the legalization of alcohol delivery and takeout from bars and restaurants. Some laws absolutely require an ID scanner for these sales, but your bar should implement an age verification system like our IDVisor Smart V2 ID scanner regardless to remain compliant.
Quickly Reads All US / Canadian IDs + Military
Simple Point and Shoot Barcode Scanner Reads all 50 states IDs and Drivers Licenses, Canadian Drivers Licenses, Canadian Health Cards, US Military Retired and CAC IDs. New Drivers License Formats Updates are always FREE! Reads in less than 1 second!
Easy to Operate – Designed for Security Staff
Design for Ease of Use – Yet powerful features if you want.
Ruff, Tuff and Easy to Use. The base product verifies age, records data for due diligence, exports data and has customer relationship management features such as email/phone capture, customer visit count, scan count, and manual entry. There are upgrades for pictures, vip/banned tagging and antipassback. Customize during check out or upgrade in the field.
Configure IDVisor Smart Starting at $895
Ready to Go Out of the Box
Just Power Up And Start Checking IDs
We set up everything at the factory and include a quick start guide with some simple instructions. It's about 1 minute from opening the box to scanning your first driver's license with IDVisor Smart.
Stand Alone Operation
Operates without WiFi – WiFi only required if wireless data export is preferred over wired USB cable export, to update software, or if networking multiple ID Scanners with IDVisor Sync (see below).
Configure IDVisor Smart Starting at $895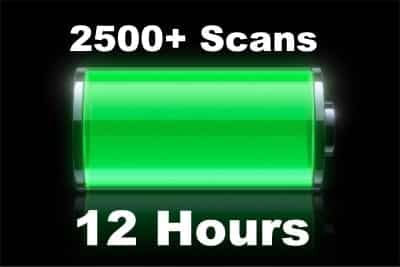 Rechargable Battery Lasts all Night
Long Lasting Replaceable Li-Ion Battery
Removable 4000 mAh Li-Ion Rechargeable Battery will easily last all night. In our testing, scanning 4 times per minute (No venues can scan IDs at a rate of 4 per minute), with WiFi on and the LCD on brightness setting at medium, it scanned 2677 IDs in 11 hours. Clients are amazed how long the battery lasts.
Optional Cradle with 2nd battery Charger
The IDVisor Smart ships with a micro USB charge cable and wall charger. An optional charger cradle with a 2nd battery charger charges the IDVisor Smart and a second battery providing 24 hour – round the clock power. Venues which run 24/7 operations like the optional cradle.
Configure IDVisor Smart Starting at $895
See, Hear and Feel Warnings
Color Coded Warnings, Talking Warnings, Vibration
The IDVisor Smart makes it almost impossible to miss a warning. Earlier generation scanners with monochrome displays simply showed the ID's calculated age, which could be misinterpreted by tired employees. This scanner displays the calculated age and then updates color coded icons, a color coded status message, sounds an audible alarm and vibrates, making almost impossible to overlook a problem ID.
One or Two Age Icons turn Green or Red
Status Message is Green Red or Yello
Talking Warnings or Audible Warnings with Volume control
Vibrates on Warning Events – Feel the Warning
Easily Export Data Into Excel
Easily export your scanned customer data directly into Excel.
Scan data lists each scan with a date and time stamp. Customer Data lists each customer once with the total number of visits, date/time of the last visit, email/phone (if manually captured), tagged and associated tag notes. The customer list details frequent customers.
Wired Export – USB Thumb Drive:
Export Data like a USB Thumb drive with PC, MAC or Linux computers using USB cable. No download software required – just drag files onto the host PC.
Wireless Export – Email / Google Drive:
If connected to WiFi and using Gmail account, data can be exported as an Email attachment or saved to Google Drive account.
Either way, No download software installation!
Here's 3 Reasons Why TokenWorks is Awesome
Free US Technical Support
Free Technical Support by US based engineers. No overseas call centers. And you speak with the Developer, not a reseller. TokenWorks Supports its products from the same offices that Designs, Develops and Fulfills order here in New York. Support hours are M-F 9-5 EST.
100% Satisfaction Guarantee
All TokenWorks products have a 100% satisfaction guarantee. All products include 14-day trial period, in which the scanner can be returned for a full refund.
FREE Fast Shipment
FREE UPS Ground shipments with coupon code FREESHIP used at checkout. Same Day Shipment for orders placed before 12pm EST. Note UPS Ground is 1 Day delivery within 150 miles of our office. See UPS coverage map.
Be ready for all IDs.
The IDVisor Smart reads drivers' licenses and state IDs from all 50 US states. It also reads Canadian drivers' licenses and US military IDs
Contact us for more information
Important Features Beyond Basics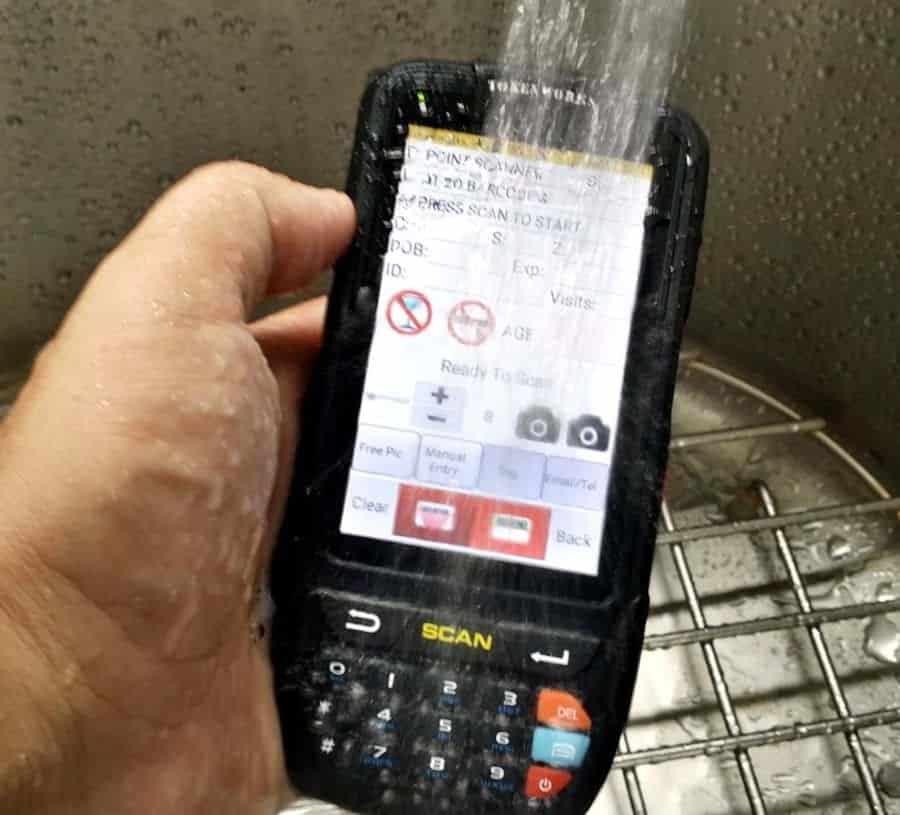 Water and Dust Seal
IP56 Rating – Sealed Against Water and Dust
Bars are wet locations and things behind the bar or at the door will get wet. This scanner is IP56 rated which means you can spray it with a hose and it works in the rain / snow or sleet. The IP56 rating states:
Protection for the enclosed equipment from dust and other materials such as dirt, oils and non-corrosives. Small quantities of dust can enter the enclosure, but the quantity of dust cannot impact the operation of the equipment.
Protection from voltage and moving parts for people who come in contact with the enclosure
Protection from splashing water, hose-driven water, rain, sleet, snow and corrosion.
Note: IP56 does not mean waterproof, so don't leave it submerged in a sink!
Here are some Cool CRM Features
Customer Visit Count
The Visit Count, shown on the main screen, tells the operator how many times a client has visited the business. This gives the operator valuable information like this is a new client, so introduce them to the business OR a frequent visitor who should be rewarded by not waiting in line and who perhaps is less of a security risk.
Email / Phone Capture
Email and Phone capture does several things. Beyond the obvious of capturing this data, it also confirms customers have opted into the marketing campaigns. Email and phone data is entered via a finger keyboard on the capacitive touch screen.
Scan Count
Scan Count increments every time an ID is scanned and provides a means to track venue occupancy. with increment / decrement button – tracks venue occupancy
Super Tough!
Designed for Multiple 5 foot drops onto Concrete floor!
Bars and clubs are tough environments. People drop things. This ID Scanner is rated for multiple drops from 5 feet onto a concrete floor. We had to see if this was true, so watch our drop test video for some smashing entertainment!
Scan Damaged / Non-Barcoded IDs
Manual Entry provides a means to enter an ID or a person into the system whose ID is missing or unscannable ID. If Tagging or Picture Upgrades are enabled, then the individual may be photographed or tagged.
Highly Rated Products by Shopper Approved
Hundreds of 5-star reviews by confirmed purchasers of TokenWorks ID Scanning products
Reviews captured by Shopper Approved, the leading independent source of product reviews from actual customers.
The confidence that you are not shopping along, but have a community of satisfied customers to count on
A+ Better Business Bureau
Rated A+ by Better Business Bureau since Joining in 2010. To see our realtime rating - visit TokenWorks page on bbb.org This will open new tab in your browser.
TokenWorks has been in business for 18 years and is one of the largest suppliers of ID Scanners in North America.
Satisfaction Guarantee
Return the product for any reason within two weeks of purchase for a full refund – no questions asked.
We warranty our products to be free of manufacturing defects for a period of 1-year from the date of purchase.
If it fails during the first year due to a manufacturing defect, then we will fix it for free.
Advanced Optional Features – Field Upgradeable
Identify Clients with Tags
Tags are important if you need to identify clients. Standard tags like Banned, VIP, CheckID, 911, SOS, BarStaff, Owes Money and member are already defined but you can create custom tags like "owners friend" or "temp member". Bars and clubs are tough environments. Your organization is thus able to provide individualized treatment to customers when they arrive.
Tag Expiration date means you can Ban somebody for 3 months or 3 years!
Tag Notes add additional details to a tagged person. For Example, a Banned person might have a note like "started fight on 6/1/2014" or a VIP might have a note like "Great Client – Keep Happy at all cost"
The AntiPass Back software detects when an ID is re-scanned in the same evening. It can be used several ways;
at the front door to detect licenses which are 'Passed-Back' to others
confirm returning patrons have already paid cover charge
at the bar to identify individuals who are consuming too much
helps detect fake IDs which have the same 'cloned' data stripe
can detect duplicate IDs when somebody has "loaned" a duplicate ID to a younger friend / sibling
detect if a wrist band was already issued to an individual.
at events, you can detect if a free sample has already been given to an attendee.
Some clubs use the ID Pass-Back detection to ensure wrist bands or ink stamps have not been transferred from existing customers. If a customer's ID was scanned when they first entered and were wrist banded or stamped, then when they leave & return, an 'ID Pass-Back' alarm should be generated when the ID is rescanned.
Passback threshold can be set from 1 hour up to 168 hours (7 days). Some applications require same evening passback detection while others want detection in the last 7 days.
Multiple passback events with date/time are displayed. This permits operators to allow multiple serves. For example, a stadium has a four beer limit – each time a client is served, their ID is scanned and this provides a count for the number of serves.
Note: With IDVisor Sync software, it's possible to network multiple scanners and have anti-passback warnings across a network. A 30,000 seat football stadium has implemented IDVisor Sync – call us for details.
Two Pictures Per Customer
Take 2 pictures for each customer (picture of ID and/or picture of individual or Auto or License plate) which become part of the customer's record and appear whenever the ID is re-scanned.
Free Pics
The Free Pics feature is for quickly capturing images of unscannable IDs such as passports or green cards. These photos prove due diligence and can be referenced later to determine an individuals identity. The free pics button is available right on the main ID Scanner form for easy access and on the home screen.
Cloud Networking - IDVisor Sync
Multiple scanners under one network. Manage data from all of your devices with ease using IDVisor Sync.
What information is stored on IDVisor Sync?
Scan data of all networked scanners
All VIP / Banned / Membership data - Real-time shared lists from all scanners
Anti-Passback data - Real-time notifications of re-scanned IDs
Photos - Shared and accessible among all networked scanners
Demographic Reports -  gender ratio, top zip codes, age breakdown, etc.
Daily Automated Reports - Reports via email
Sync Features
Collects real time data & photos from networked ID scanners in SQL database.
Central management of tagged (VIP/Banned) list.
Synchronize settings across all scanners via admin console.
Real time notification of rescanned IDs.
Review photos taken by all networked ID scanners.
Available as a subscription or software license.
Software subscription is optionally available on customer's Azure account or dedicated Windows server.
Developer API for data download to registered applications.
Automated Data Management - delete data on periodic basis.
Device Management - Rename and group scanners.
Data Download - Customer list / scan report by range.
Upload and manage tag list and customers via admin console.
SMS / emails triggered by scans on tagged list.
Permission-based access for different users.
Scanners function both on and offline

If internet connection goes down, scanners will continue to work offline.
New data is automatically sent to the cloud once connection is restored.
IDVisor Sync with API
Integrate our cloud-based networking software with your own web services.
Retrieve scanned customer data from Sync and apply it however you'd like.
Integrate Sync to automatically send scanned customer data to your web services.
Safe and secure, the data is protected in Sync.
Be ready for all IDs.
The IDVisor Smart reads drivers' licenses and state IDs from all 50 US states. It also reads Canadian drivers' licenses and US military IDs
Contact us for more information