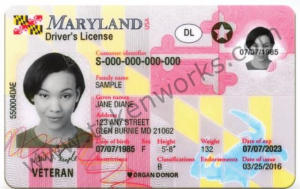 Last week, the Maryland Department of Transportation's Motor Vehicle Administration (MVA) unveiled a new driver's license and identification (ID) card design that not only complies with the federal REAL ID act, but also improves the documents' physical security and better safeguards the cardholder's personal information. The newly designed licenses and ID cards will be available starting June 20, 2016 for those renewing, and on July 11, 2016, for first-time applicants.
In addition to now allowing the option for U.S. veterans to display the designation "Veteran" on the front of the license or ID card, multiple secure features meant to deter identity theft and forgery are included in the redesign:
Detailed fine-line graphic background: a pre-printed background design with many lines and colors makes the documents difficult to accurately reproduce
Cardholder's photo and other data is laser-engraved to protect against manipulation and fraud, and allow those working in low-light conditions a tactile test of authenticity
Changeable laser image that allows two images to occupy the same location
Optically variable features such as the Chesapeake blue crab, the Oriole bird, and the Maryland state house appear in the background
Cards constructed of polycarbonate, which is both durable and tamper-resistant
Redundant date: birth date is repeated in the upper right hand corner of the card
A full-color cardholder photo appears on the back of the document
2D barcode on the back of the card protects and confirms citizens' information
Inventory control number and barcode on back of card further confirm identity of cardholder

Maryland's MVA will also begin using a process called central issuance to distribute all licenses and ID cards, wherein the new documents will be printed and mailed from a high-security MVA facility. This process limits access to card materials, printing equipment, and residents' personal information. Over thirty states already use central issuance. New cards will arrive via the USPS within 7-10 business days, although expedited processing and shipping will be available for an additional fee.
Applicants should confirm their mailing address prior to applying for a new document to ensure it is sent to the right location, since the USPS will not forward MVA mail. Updating an address with the MVA can be done at www.mva.maryland.gov.
All current Maryland driver's licenses and ID cards will remain valid until they expire; no citizen has to obtain the newly designed documents until renewal is required. The fees for renewing a driver's license will remain unchanged ($6/year, available for 5-8 year periods) and renewal can still be done online, at a kiosk, or via the mail.
See the MVA's brochures below:
Maryland Secure ID Brochure
Maryland Secure ID Features
Maryland ID Card Visuals